Traditional software games of blackjack offered by casinos online are completely different from
the shoes used in land-based casinos. Online games depend on random number generators rather than a real deck of cards. Unless you're playing a human dealer game, you can't see the shuffle or the cards themselves, only graphical representations of cards that are based on random numbers plucked out of thin air by the casino's software. There are those who are skeptical about the randomness of those card shuffles when it comes to lesser regulated casinos. No matter how realistic a 3D blackjack game's graphics may be, no version of the original internet casino play feels much like real casino gambling. In fact, it's more like playing a video game…
Until now… Enter the live dealer blackjack games online: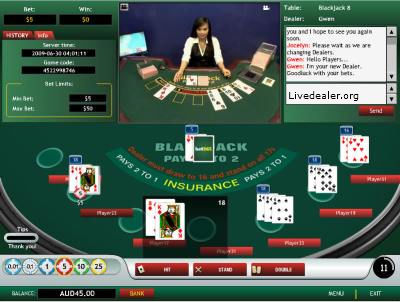 Over the past 5 years, a few online casinos began now offering live blackjack played with a real human dealer that looks similar to a standard internet game, with the addition of a live dealer on webcam dealing the cards. The player still uses some form of point-and-click interface to make game decisions and place wagers, but the action of the game is streamed live with real cards on a real blackjack table. Players can watch the shuffle, see the cards being dealt, and interact with the dealer almost the same way you would in a traditional casino.
In addition, many online casinos give players the option to chat with the dealer and/or other players during play. Players can type messages in real time to communicate with the blackjack dealer in a window on the screen. This gives players more of a real casino experience, where people usually talk openly during play. There are, however, usually chat rules to prevent players from making rude or offensive comments. Repeated violations can get you banned from the chat option, or from the online casino all together.
The 1st generation live dealer games had a split screen where you could see the dealer dealing the cards on the top half of the screen and the player decisions in digitized images on the bottom half of the screen, which made it somewhat confusing to some. Luckily, the technology has evolved with the newest generation games so that everything is shown on a single screen with player bets and decisions shown in graphical overlays. Many live dealer games use over sized cards that they must scan before dealing to insure more transparency for both the player, and the house.
If you're a card counter, you will be somewhat disappointed, as they have employed a few countermeasures to thwart attempts at tracking cards. To start off, they burn a good stack of cards at the beginning of the 6-8 deck shoe. Secondly, they only deal to about 50 percent penetration before reshuffling. Even so, counters have reported certain success in counting, particularly those sitting at third base.
The video below is from BetOnline
(U.S. friendly), our editor's choice for U.S.players. You can get a real sense of how a live dealer game feels. In most games, players are allowed to share an ongoing chat in a window that the dealer also sees. This all adds to the real casino atmosphere. Tips are encouraged and you will see that it is customary for the dealer to make small talk with the players. You can read our full review here.
BetOnline (U.S. friendly), with honest play and fast payouts, is our favorite. Click the bonus banner below.
For (non U.S.) international players, we recommend 888casino and 888.es for Spanish speakers (en Español).
Game variations in Live Online Blackjack:
1 to many : single deal caters to unlimited number of players
10 card charlie : player wins if they draw 10 cards (unless dealer has Blackjack)
double 9-11 : player can only double down on their first two cards with a value of 9, 10 or 11
double any 2 : player may double down on any first 2 card combination
early payout : proprietary games offering surrender options and calculated payouts based on cards dealt to that point in game
hit split Aces : player can hit/draw cards to their split aces, rather than receiving only 1 card
re-split : player can split a split hand
surrender : player can fold their hand before taking any action and forfeit half of the original bet
side bets: in addition to regular blackjack bet, optional side bets are offered (Pairs and/or 21+3)
bet behind:  you are able to bet behind another seated player
As with traditional online blackjack games, the casino's reputation is paramount when making your playing decision, even more so for U.S. players whose options are limited. I would say that reputation trumps bonus offerings any day. For what good is a sweet bonus if the casino never lets you cash it out, or engages in shady tactics to withhold the bonus until all of your deposits are lost first?
At this time, there are only 2 casinos that we recommend for live blackjack betting. Both have stood the test of time (over 5 years in business), have fair play, easy deposits and safe and secure payouts.
For non- U.S. players, you can read our user reviews for 888casino.
For U.S. players we highly recommend BetOnline Casino (see video above): 200% Casino Bonus at BetOnline
Table Bets: We've seen the bets allowed at various casinos range from $1 to $10,000 and one unconfirmed has been said to make exceptions for very high rollers, allowing $50,000 bets.
Our take on these live dealer blackjack games is this: there is no significant difference in playing one of these games from playing in a land base casino. If you are one of the folks who is contentious about the randomness of computer generated software games, these games may be just the ticket for you!