Although many of today's online gaming casinos are just as tightly regulated as those in Las Vegas, there are more than a few that are scamming people out of thousands of dollars every day.
"It takes 20 years to build a reputation and five minutes to ruin it. If you think about that, you'll do things differently." -Warren Buffet
If more online casinos followed this advice, gambling online would be far more fun and much less of a headache.
Here are the problems people are experiencing with some of the shadier operations online. Researching the reputation of these establishments before deciding to open an account can save you a huge headache and mucho dinero.
1. Delays or refusals to pay out winnings
Perhaps the most frequent complaint against a large number of online casinos is that they delay paying out winnings for weeks or months and the shadier establishments, flat out refuse to pay you out after you win. Many of them cite processor delays and wire transfer rejections as the official reason for the delay, but in reality they are hoping that as long as the money remains your account that you will eventually play again an lose it all back to them before they can complete any payout. These delays fall under a grey area in regulation, since casinos claim the delay factors are beyond their control. These casinos are not legally operating in the U.S. and you have little recourse when it comes to getting your money out, other than pestering them every day on the phone.
Some fly-by-night operations may just take your money, close down, and run so buyer beware! Only make deposits and play at reputable casinos that have been in business for at least 5 years, are licensed and regulated by a responsible government, and have good reviews.

By the way, all of the online casino banners on our site  have been thoroughly reviewed in terms of payout and software game fairness and therefore receive our endorsement. If you experience problems with any of our sponsored casinos, please let us know and we will make a decision as to whether they will be pulled.
2. Playing with fixed software to rig the game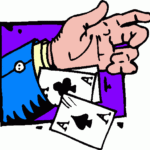 Trustworthy casinos usually use top-shelf number generators from well-known international award winning development companies. On top of this, most countries that allow allow online gambling require any operator to acquire a license which means that if they do try to scam even 1 player out of 1 dollar and they find out, the penalties, fines and criminal charges will simply bring them out of business.
This problem seems to be reported much more frequently than it actually occurs. Because players cannot see cards being shuffled, and only see the outcome of a random number generator, any streak of bad hands such as multiple dealer 21s always seems to raise suspicion. Even ten years ago, I would have advised anyone to stay away from all online casinos as they were completely unregulated and almost unaccountable for fraudulent operations such as this. Much has changed, however, especially over the past five years, as the online gaming industry matures and the community of online gamers have discovered rating sites, discussion forums, and blogs, all of which serve to police the industry. Casinos now rely on their online reputation and word of mouth advertising to attract new customers. Nothing causes people to withdraw funds faster than rumors of fraud and corruption.
Most of the problems with cheating casinos have occurred among the over 200 unlicensed, unregulated and many times illegal casinos online today. Many of these operate for only a few months to draw in customer's deposits and then drain their accounts over a few days only to close up shop and abscond with the money.
So although gaming software designed to cheat you out of a fair game does exist, the risk of using such software is too great for an online business that has worked hard to create a name for itself in cyberspace. It is almost impossible for the common person to prove one way or another if the game has been rigged and only by an extensive computer analysis of play logs on the server, can this determination be made. It makes no sense for the bigger reputable sites to cheat when they can make huge profits from a clean game. Remember, the house has an edge and most gamblers will lose money in the long run.
Winner Online, considered by many to be an authority site in this industry, has said, "Online casinos are fair and honest for the most part. If you stick to the Big Four software manufacturers (Boss Media, Cryptologic, Microgaming, and World Gaming) you shouldn't have to worry about the fairness of the games themselves – the only thing you need to look into is their reputation for support and prompt payments."
WHAT SHOULD ONE LOOK FOR IN AN ONLINE CASINO?
1. Reputable Software
Solid software with an unhackable backend that consistently generates true and random numbers. Stick to the Big Four software manufacturers Boss Media, Cryptologic, Microgaming, and World Gaming. If the casino uses its own in-house software, it should be verified by a competent organization.The software should be able to maintain your game status in the event of an interrupt in your internet connection.
2. Business History
Operators have at least a 5-year history of stable business operations. No prior delinquent record, recent name changes, etc.
3. Licensed and Regulated
Don't rely on the software company's payout claims. Look for operations that are audited several times a year by unbiased, third-party organizations. A list of winner payouts should also be disclosed to confirm reliable payouts.
4. Phone Support
Make sure the casino offers support via toll-free phone and/or live chat (not just e-mail). They should be able to handle any question from gaming rules to payouts and immediately escalate the issue to a supervisor if they cannot.
5. Fast Payouts
Account management must offer payment options for reasonably fast payouts such as wire transfers, overnight checks etc. Some casinos charge a fee to send your funds, others restrict how frequently you can withdraw funds. Buyer beware- find a set of procedures that you can live with before making a deposit.
Bottom line: don't be lured by big bonuses of freeplay money for initial deposits or promises of fast payouts. Do your homework and stick with the better known operations that have been around for many years.
One online casino that I have plenty of experience dealing with and stake my reputation on is Bovada. They are are well established, have cutting edge technology with the most blackjack games (including mobile games for your phone), and are upfront and honest in their policies and dealing with them on the phone. They meet all of the above criteria, accept all U.S. citizens and have earned an A++ rating in our book. Visit Bovada or read our full reviews on Bovada and others.
Practice Casino Games FREE, Instantly!
Before you make bets with your hard-earned cash in a casino, why not practice? Playing these games won't cost you a penny if you lose. When you're confident in your playing ability you can always switch to real money. Bovada's practice games are the best because there's no waiting for casino software downloads and no dealing with a lengthy registration. You can have fun and play blackjack online instantly without giving them any information. Experience what true leisure online gaming is all about. One click and you're in action. Choose a game below…
***************************************************
By the way, I've played at many of the TOP RATED online casinos on the net, and I can say that BOVADA'S LIVE BLACKJACK games offer the best surrender games in the industry.
Their payouts are fast and their customer support is top notch. They make make it easy to make Bitcoin and all major credit card deposits.
Sign up for free or take advantage of their amazing welcome bonuses currently over $3K! click the link >> BOVADA BONUSES
Or play one of their 8 FREE blackjack software DEMO GAMES (after the redirect, just close the pop-up sign-up & select a game) link >> DEMO BLACKJACK GAMES
*Disclaimer - I do receive a commission if you decide to deposit and play with real money.